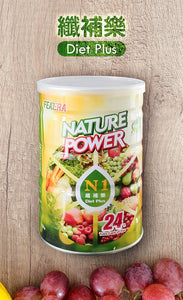 Ingredients
Pineapple juice, maltodextrin, indigestible maltodextrin, oat flour, glucose, inulin, apple juice, carrot, oat fiber, brewer's yeast, N1 Microencapsulated Enzyme Complex, tomato, citric acid, DL-malic acid, spinach, beta-carotene, silicone dioxide, guar gum, red beet extract, vitamin C, curcumin, sucralose (sweetener), vitamin E, vitamin B2.
N1 Microencapsulated Enzyme Complex:
Fermented fruit and vegetable blend (pineapple, green papaya, red date, dragon fruit, guava, avocado, pear, beetroot, yam, apple, grape, tomato, kiwifruit, lemon, orange, kumquat, grapefruit, banana, red pomegranate, passion fruit, noni, strawberry, cherry, blueberry, mulberry, starfruit, lotus, cantaloupe, watermelon, honeydew, longan, lychee, peach, plum, candied plum, persimmon, alfalfa, almond, red sugar cane, broccoli, kale, celery, okra, alfalfa sprout, bell pepper, red leek, luffa, bitter gourd, black bean, red bean, mung bean, pea, pumpkin, carrot, ginger, burdock, sweet potato, medlar, cloud ear fungus, enoki mushroom, lion's mane mushroom, maitake mushroom), maca extract, probiotics, kiwifruit extract, bitter gourd extract, noni extract, rhizoma gastrodiae extract, jujube extract, wolfberry extract, red yeast rice extract.
Usage & Storage
Scoop 3 leveled spoonfuls into 200-250mL of cool or room temperature water. Shake or stir until fully dissolved, and then drink on an empty stomach (very important). Container yields approximately 30 servings.
Store at room temperature. Keep away from moisture, heat and sunlight.
SGS Laboratory Reports
Tested for 473 known Pesticides: None Detected
Tested for 360 known Chemicals Adulterants: None Detected
Tested for Preservatives, Phthalate Plasticizers, Heavy Metals & Animal Products: None Detected